Request a Demo
User Rating
E:\www\comodo\securebox.comodo.com\theme\images\reviews\star-rating-new\transparent





What is POS Security?
POS Security or Poin of Sale Security is the prevention of unauthorized access by third parties who look for security gaps to sneak into customer information (like credit card information) and cause data theft. The main objective is to generate secure customer transactions by tackling security risks and providing data security.
What is Point of Sale System?
Point of Sale System (POS) also known as Point of Purchase (POP) channels the transaction processed through retailers outlets while a product is purchased by a customer.
When the customer swipes a credit/debit card at a Point of Sale Security System, the information (Track 1 and Track 2) on the card's magnetic stripe is captured and processed by the device with which the POS system is attached.
Track 1 data gives the information about the actual account, incorporating cardholder's name and account number
Track 2 data stores information like credit card number and expiry date.
How Point of Sale (POS) Attack Happens
Cybercriminals are prying over customers data punched in through the POS systems. Criminals anchor a monitoring device to the POS system to hoard out the customer card information with the verge to launch identity theft. However, hackers being more smart, connects to the Point of Purchase system remotely to deliver malware and prowl over the credit card information.
The hackers induce RAM scrapers to scan parts of Point of Sales/Purchase terminal memory and gain access to the customer's card data and then conveys it to the botmaster.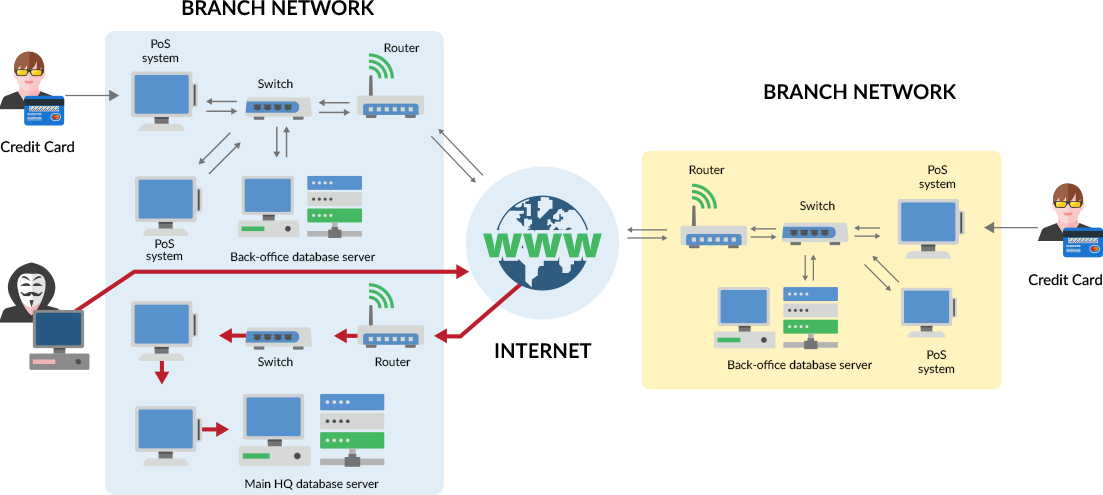 Normal and Infected POS System
Retail Merchants are to follow strict compliance requirements to encrypt the financial data that passes through the POS system. However the process of encryption does not happen instantly instead it goes through a phase when the customer data stays unencrypted until the authorization is complete. The cyber-thieves find this unencrypted phase a pathway to pose an attack and to grab the sensitive details within a limited span of time close to a wink of an eye. They are equipped with an extra pair of eyes to scan the RAM and scrape out the information.
Imposing secret stealthy actions on the POS terminals or the servers to cause massive POS security data breaches, when un-noticed can cause a heavy blow on the Point of Sales/Purchase network and hence poses heavy data loss.
SecureBox Solution for POS Security - An Epitome to Secure Point of Sale Network
Comodo SecureBox upturns the conventional POS security and enforces a devout strategy of protection by considering the host to be invariably vulnerable by default. The POS Security from Comodo SecureBox is orchestrated to run suspicious and unknown applications inside a security-based container by deploying core containerization technology with key-logger protection, AV scanning, remote takeover protection, Memory Scraping protection, Anti-SSL sniffing to transmute the POS systems into a secure Point of Sale platform.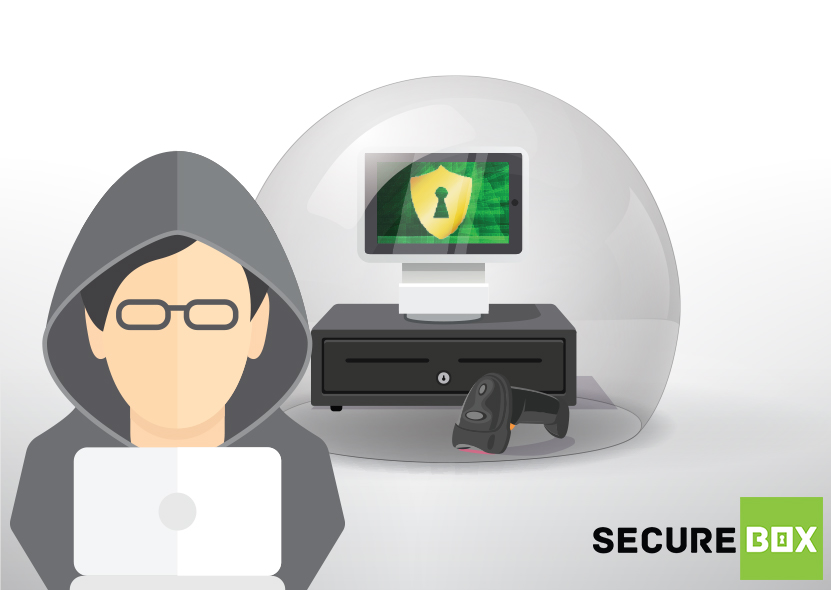 Securebox POS Security
The POS Security infuses containment technology that takes an upper hand to separate any unknown application from other processes running on the computer. The following are the features
Data Protection:
Provisioned to protect the users' application data that are stashed in memory and disk data. POS data is protected from cyber thieves for the companies to protect customer data.
Keylogger Protection:
Orchestrated with virtualization technique that impedes keystrokes from the keyboard filter driver to encrypt the information thus protecting the customer's information and delivering it to the target recipient in a customized message.
Remote Takeover Protection:
Equipped with application-agnostic screen capture technology, it defies remote desktop take over obstructing the cyber thieves from viewing or accessing the POS Network and any information from the users' desktop.
Anti-SSL Sniffing:
Programmed to identify ill-natured SSL connections by stopping and validating certificates with trusted root certificate list from Comodo.
Pro-Active Virus Removal:
Pro-active to defend viruses on the host devices. The robust feature does a quick cloud-based scan to identify and cease all active viruses on the host device which is then sent to the Enterprise administrators.
Anti-Memory Scrapping:
Arrests the process of memory scraping by defying other applications from reaching the memory of containerized applications.
POS security is more difficult to deal with now because of these advanced attacks, but we can help. Our product does things differently to ensure that your information is safe, no matter what time of day. That way, your information can remain safe, even before it is encrypted. Contact us today to learn more about POS security.
POS clarification
Can I segment any networks utilized by POS systems.
Comodo product
Wanted to know if Comodo encrypt all POS data upon entry and decrypt it at the payment processor
Better be safe
Remember Wendy's is facing multiple class action suits related to the POS breach, Comodo is pretty decent product.
Security compromise
Can't imagine that most high profile data breaches of customer payment information involved POS security compromises
The risk
Get this if you acknowledge that all POS systems do have some level of risk when it comes to security.