Enterprise Security Solutions
Enterprise Security Solutions are of utmost importance in the current scenario, especially when enterprises all over the world are facing all kinds of security threats. In short, Enterprise Security refers to protecting all those things that matter the most to any enterprise. This includes enterprise data, users' personal data, applications and all kinds of interactions.
How to Protect Your Digital Enterprise
Protecting your digital enterprise by using top notch Enterprise Security solutions, which would help you to uncover vulnerabilities, identify the threats that exist or may come up and do what all is needed to neutralize or prevent them. Enterprise Security comprises mainly of the following things-
Application security - The number of applications that are used by enterprises goes on increasing. In this scenario, securing these applications happen to be a very important part of enterprise security.
Data security, encryption - Securing data at all stages of its lifecycle is of paramount importance. Thus enterprise security solutions also focus on safeguarding data, whether it be across the cloud or on-premise and mobile environments, at rest, in use and in motion.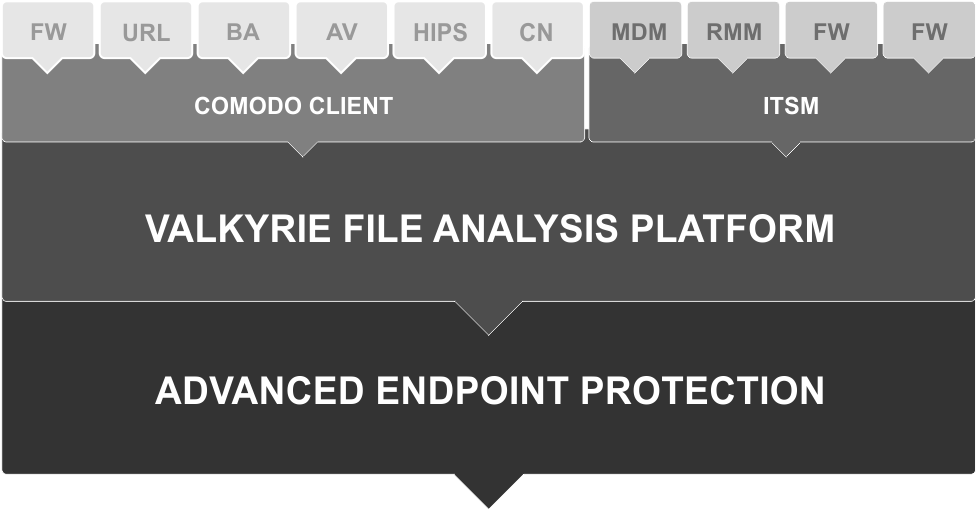 Detecting and responding to threats - Security operations that focus on detecting threats and responding to them, saving as much time as possible, is at the crux of Enterprise Security solutions.
Security research, updating security intelligence - Research that helps identify/detect new vulnerabilities plus the regular updation of security intelligence also matters in Enterprise Security.
Identity and Access Management - Identity and Access Management, which is a part of Enterprise Security, takes care of organizations' evolving needs around cloud applications and mobile devices by managing, enabling and securing access to online resources and protecting all kinds of digital interactions.
What's New in Comodo Enterprise Security?
If you are like most companies, you understand the need for enterprise security software but realize there are many available choices and may wonder which one is the best. At Comodo, we strive to provide you with the products that meet your needs without you being required to pay an arm and a leg. We understand that you want your network, users and cloud-based systems to be protected against the ever-evolving threats out there.
Challenges for Comodo Enterprise Security Solutions
While companies everywhere have multiple challenges to face each day, the three primary trends that cause the most difficulty include:
Consumerization
Virtualization
Advanced Threats
Because there are more endpoint (device) options available, customers and end users can use almost any device to connect with you. The problem with that is that all of those endpoints have to stay secure against the more advanced threats out there.
More and more people are also using virtual and cloud-based computing drives for more efficiency and operational gain. However, strategies for security have to be optimized and updated so that it fits in with the new environments and security gaps aren't created.
While older viruses and malware are still present and have to be thwarted, new ones are cropping up each minute, so a vigilant defense system must be in place, which is where our enterprise security software can help.
Complete IT Security Solutions
We can help with cloud/data center security, cyber security, and protection of end users. If you use a virtual data center or the cloud, you'll notice that our product provides centralized protection for all servers and desktops, regardless of whether they are in the cloud or not.
You'll also get custom defense with our enterprise security software, so you can analyze, detect and respond to the attacks on your network. Contact us today to learn more.